This is a real eye-opener for anyone who lifts weights.
Chris Bell's documentary focuses on steroid use in sports, as well as his own experience, along with his two brothers Mark and Mike.

My Notes:
Mark "Smelly" Bell, Mike "Mad Dog" Bell and Chris Bell (Director) three brothers
All three started weight training around the same time
Mad Dog played American Football, Smelly and Chris went into Powerlifting
Chris was one of the strongest kids in the country, and made the decision to move to Golds Gym and train
Mad Dog talks about prevalence of steroids in D1 football (tier below NFL)
Mad Dog quits football to pursue wrestling career
Smelly (present day owner of Super Training Gym or Check His Youtube) did some football and wrestling too, but gave up for birth of son
Smelly continues powerlifting, shown benching 633lbs
Discussion of prevalence of steroids in Baseball
Discussion of prevalence of steroids in Olympic Weightlifting
Talk of how steroids are portrayed in media & film
Scientific explanation of Steroids
Discussion of prevalence of steroids in Track & Field Sprinting
Interview with Greg Valentino, world's biggest biceps
Interview with Stan Lee (Marvel Comics)
Visit to Louie Simmons & Westside Barbell
Visit to Floyd Landis (Tour de France winner)
Visit to Ben Johnson (100m)
Use of the term "herbal supplement" or "cold medicine" to cover up steroid use
Talk to Congressman about steroids
Talk with man whose son committed suicide having been on steroids (taylorhooton.org)
Talk with psychiatrist about modern man's obsession with muscles and six pack abs
Talk with Fitness Model about weights and steroids
Mentions all the fraud and deception in the supplement industry
Supplement Industry worth $24 billion/year (as of documentary date)
Chris makes and produces his own supplement legally since they don't have to be FDA approved
Uses own body and photoshop to produce a before & after ad in same day
Smelly attempts to bench 700lbs to fulfil childhood dream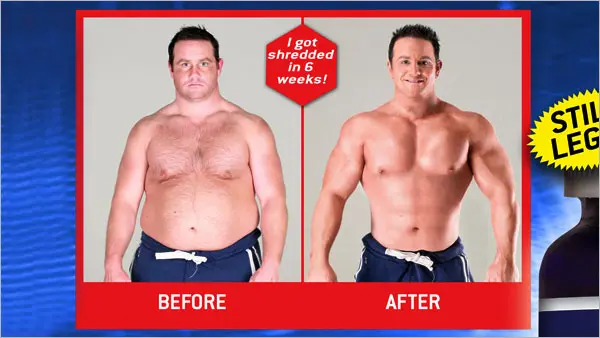 Here's the "Before" and "After" photoshop job done for Chris's fake supplement brand. As you see in the documentary, these pictures are taken in the same day and manipulated on the computer.