I've been losing my hair since the age of 25 and at 32 I started to do something about it. I was aware of the popular hair regrowth solutions like Minoxidil but I wanted to trial some of the other home remedies shown to be effective.
Experiment 1 – Pumpkin Seed Oil
Start Date: 3rd December 2019
End Date: 19th May 2020 (24 weeks)
Protocol: Consumption of 1000mg Pumpkin Seed Oil pill, brand Piping Rock, taken on 6 of the 7 days each week. This was due to the original research study only using 400mg, though 1000mg daily is said to be a safe dose.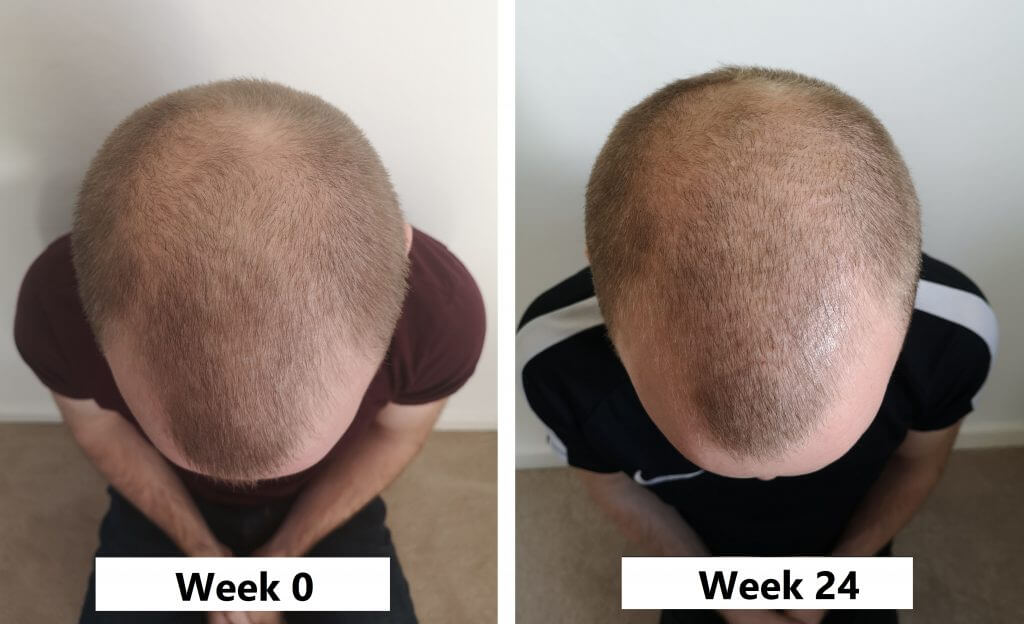 Results: I felt my hair continued to thin and recede at its usual rate during this period. The research study [1] I cited used a product called Octa Sabal Plus which contained other ingredients alongside the pumpkin seed oil, namely Octacosanols, GLA, Polyphenols, Lycopene and Corn Silk Extract. Feedback from the comments section of the below video suggested that topical application, i.e. rubbing it into my scalp, would have been a better experiment.
Experiment 2 – Scalp Massage
Start Date: 5th June 2020
End Date: 19th November 2020 (24 weeks)
Protocol: A daily 5 minute scalp massage, using either a spider head massager or a silicon-tipped scalp massager. I tended to massage in the evenings and on days I missed (18 in total) I then did 5 minutes the next morning and evening.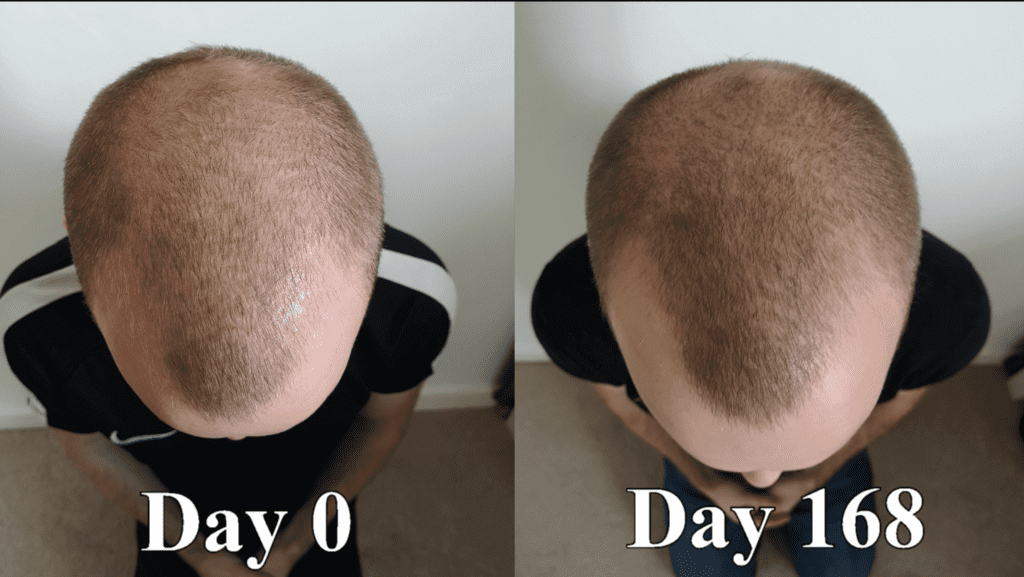 Results: This was far more encouraging, but while I saw improvements in hair thickness my hairline continued to recede. There are two studies [2,3] showing the value of scalp massage in improving hair thickness, and there's also a tutorial video [4] that accompanies one of those studies.
Experiment 3 – Perfect Hair Health Scalp Massage
Start Date: 20th November 2020
End Date: 25th September 2021 (2 x 24 weeks)
Protocol: A 20 minute scalp massage routine, repeated three times a week.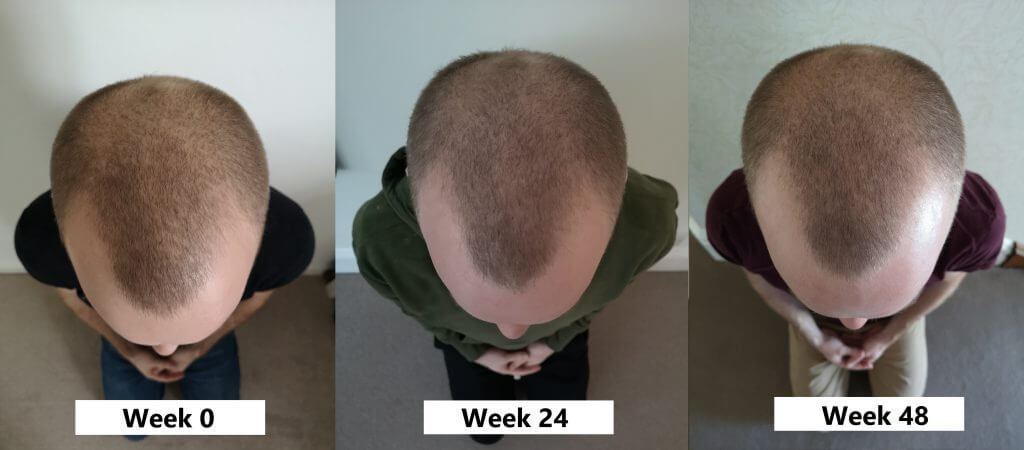 Results: Massaging 5 minutes daily equates to 840 minutes of scalp massage. Having seen a relationship between total time spent massaging and hair growth results, I tried to increase the amount I did. Followed correctly, this would see me complete 1440 minutes of scalp massage in 24 weeks. However, the first 24 weeks was horribly inconsistent and I'd forget which days I'd done, and often cut short the routine to only the bits that were easy (7-8 mins). The first 24 weeks saw me massage for a total of 454 minutes, and I doubled down on consistency the second 24 weeks, totalling 1235 minutes.
At this point I was aware of the need to align head angle to gauge hairline movement, and so weeks 0 and 48 are nearly identical in camera angle. Thinning didn't feel too noticeable but my hairline continues to move backwards both at the front and at the temple.
Experiment 4 – Derma Roller and Topical Oils
Start Date: 18 October 2021
End Date: 10 April 2022 (12 + 13 weeks)
Protocol 4.1 (weeks 1-12): In order to keep track I created a spreadsheet of my routine. You can see Biotin, Ashwagandha and ZMA, all supplements, were taken daily. Ketoconazole shampoo once a week, alongside a 0.5mm derma-roller and a topical blend of coconut oil (1 teaspoon), rosemary oil (3-4 drops) and peppermint oil (3-4 drops) massaged into the scalp and left on.

Protocol 4.2 (weeks 13-25): I traded the Biotin for a radiance capsule, which contains other ingredients. I switched to a 1mm derma roller which I used every other week i.e. every 14 days. I reintroduced scalp massage for 3 minutes, though not in the days directly after derma rolling. The strength of the topical blend changed to coconut oil (1 teaspoon), rosemary oil (8-10 drops) and peppermint oil (8-10 drops), and the frequency was increased to twice a week.

Experiment 5 – Saw Palmetto
Start Date: 11th April 2022
End Date: 14th August 2022 (18 weeks)
Protocol: The Radiance capsules ran out in week 10 and I switched back to Biotin, but this time 10,000mcg. Having discovered a Reddit post about "The Big 3" for hair loss [5] I started looking for alternatives to the most popular ingested substance (Finasteride). I found Saw Palmetto, which the research [6] concluded is not quite as effective as Finasteride, but is a potential alternative. I also switched out scalp massage for Downward Dog, a yoga pose that improves blood flow to the scalp. Lastly an attempt to regulate my stress with box breathing, a four minute routine to engage the parasympathetic nervous system.
In week 7 I changed box breathing to coherent breathing, which is another effective stress-relieving breathing practice. By week 13 I'd changed it again, this time to a short meditation. In week 9 I changed my base oil from coconut oil to grapeseed oil, as the latter is less likely to clog pores. Throughout the full 18 weeks I was doing weekly Nizoral, fortnightly Derma roller (1mm) and twice weekly application of the topical oils, leaving them in.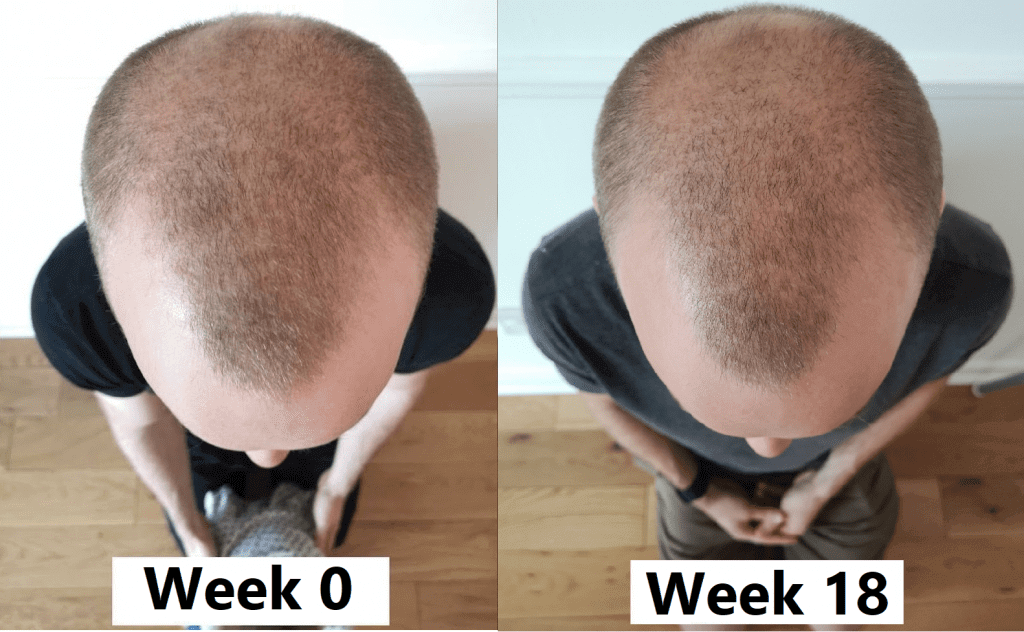 Results: This felt like the clearest picture to date that indicates my hair is still thinning. I notice several patches with less hair and my central strip of hair appears to have narrowed at the temples. I can also see a much more prominent bald patch on my crown. This felt like a wake up call that slowing down hair loss is not enough and I should do what I can to reverse it.
Experiment 6 – Micro-dosing Finasteride
Start Date: 22nd August 2022
End Date: Initial supply lasts until 12th December 2022
Protocol: I've dramatically scaled down the efforts I'm putting into this to focus on "The Big 3". Those are an ingested substance, a topical substance, and a way to remove DHT from the scalp. There's also a bonus of derma rolling. After almost three years of trying I've come round to what's said to work, and my routine is as follows:
Finasteride (0.25mg) in the form of 0.5mg every other day. The pills are fiddly to quarter but halving them is okay. A research paper [7] has covered the effects of micro-dosing and found that 0.25mg, a quarter of the standard 1mg dose, still provides 90% of the effect. This means it's a great option for those concerned about the side effects (mainly erectile dysfunction, depression and reduced sex drive).
Nizoral shampoo once a week. I leave this in for at least 5 minutes as per instructions, and it's active ingredient ketoconazole is said to remove the build up of DHT on the scalp.
Derma rolling (1mm) every two weeks. Some people suggest more frequently but most sources warn against that and advise people to err on the side of not often enough. I use the "star protocol" which is rolling five times on the same strip of scalp before moving on, and doing a full roll from back to front, left to right (or right to left), and both diagonals. That means each part of the scalp will be subject to 20 rolls in total from four different directions.
Topical application of grapeseed oil (1 tsp), peppermint oil (10 drops) and rosemary oil (10 drops) once a week. At one point I nearly switched to castor oil but decided against it. Instead of applying this straight after rolling I wait 2-3 hours, and I can feel the tingly sensation of blood flow being stimulated. I ditched the midweek application as it was a) too much effort and b) far less effective. Supposedly derma rolling helps improve absorption by up to +800% compared with standard topical application.
With all that said, watch this space! I'm tracking my mood and watching out for any other Finasteride side effects. At the time of writing I've had a total of 6.5mg Finasteride across 27 days and so far there have been no issues.
References
[1] Effect of Pumpkin Seed Oil on Hair Growth in Men with Androgenetic Alopecia: A Randomized, Double-Blind, Placebo-Controlled Trial, 2014. Cho et al.
[2] Standardized Scalp Massage Results in Increased Hair Thickness by Inducing Stretching Forces to Dermal Papilla Cells in the Subcutaneous Tissue, 2016. Koyama, Kobayashi, Hama, Murakami, Ogawa
[3] Self-Assessments of Standardized Scalp Massages for Androgenic Alopecia: Survey Results, 2019. English Jr, Barazesh
[4] Perfect Hair Health Scalp Massage Tutorial Video, Vimeo
[5] Reddit guide "I'm losing my hair, what do I do?" updated 2020
[6] Natural Hair Supplement: Friend or Foe? Saw Palmetto, a Systematic Review in Alopecia
[7] The effects of finasteride on scalp skin and serum androgen levels in men with androgenetic alopecia