Chilis – Nutrition Information and Calories
Below you will find  a set of tables that include every menu item available at this restaurant. I find that certain restaurants freely publish PDF's but then make them hard to read to avoid showing you what's in their food. I've taken the liberty of creating a Traffic Light System (Green = 0-30% RDA, Yellow =31-60% RDA and so on…).
This has three functions:
1. You can see at a glance how healthy a restaurant is.
2. You can spot high sugar/fat categories such as the sugar in drinks menu's
3. When selecting an individual item e.g. a sandwich, you can see how it compares to other choices.
I really hope you find it useful, I want to tidy the format further but it's nice to have the information out there first. Please share it around!
Chilis – Baby Back Ribs No Sides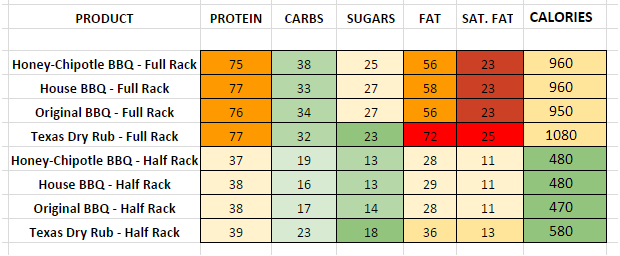 Chilis – Burgers No Side Fries

Chilis – Burritos No Side Black Beans

Chilis – Crispers and More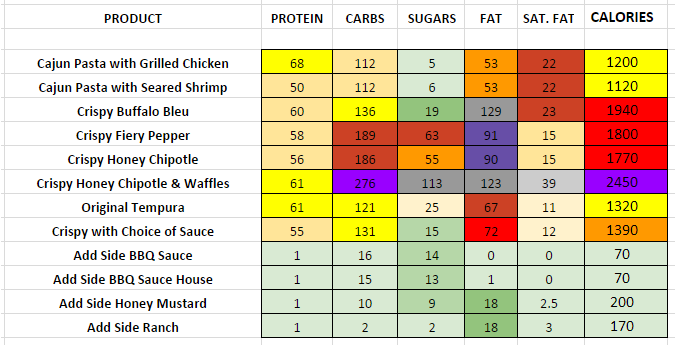 Chilis – Enchiladas & Fajitas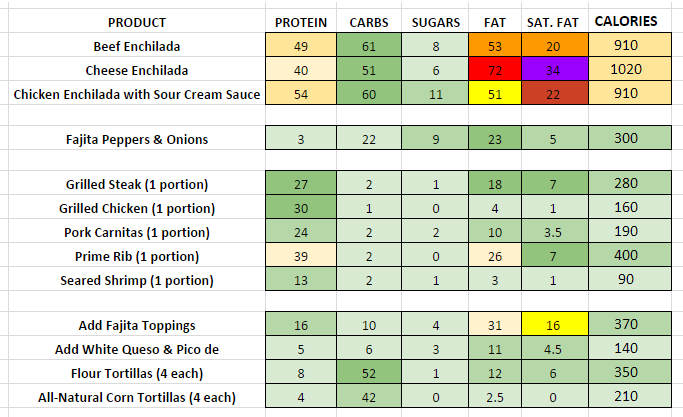 Chilis – For The Table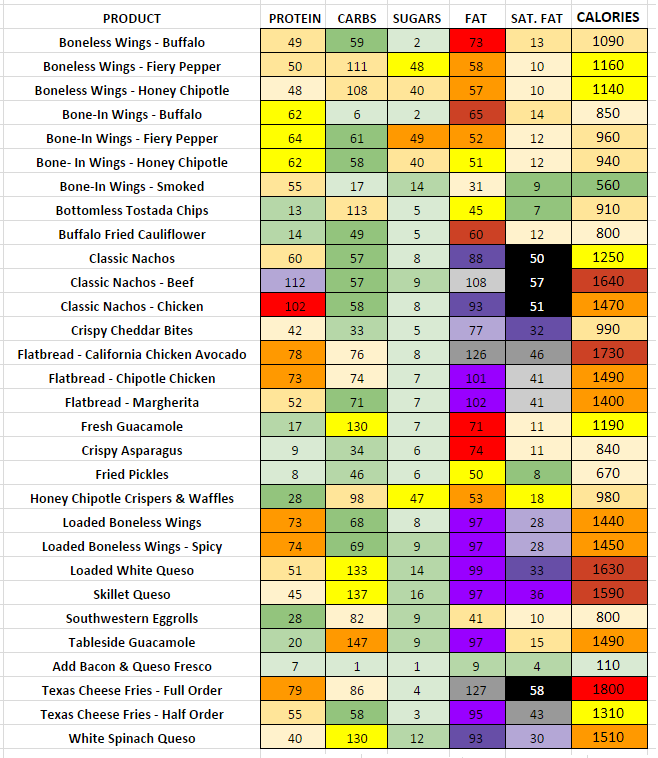 Chilis – Fresh Mex Bowls

Chilis – Substitutes and Add-Ons

Chilis – Triple Dipper

Chilis – Handhelds No Side Fries

Chilis – Lighter Choices

Chilis – Quesadillas

Chilis – Lunch Combos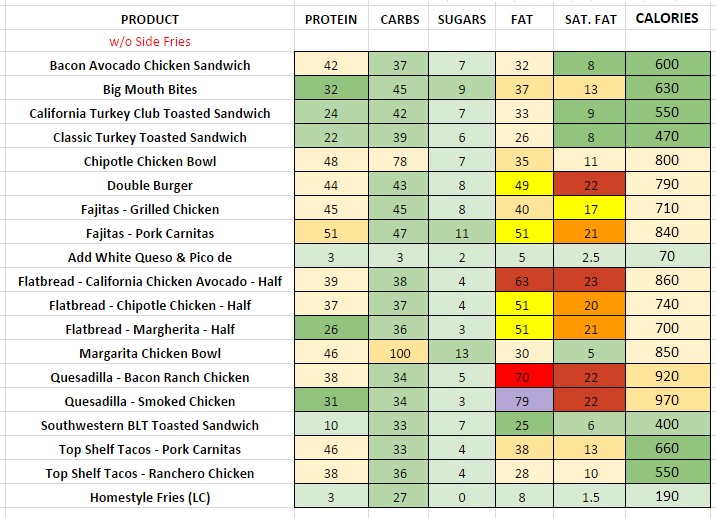 Chilis – Salads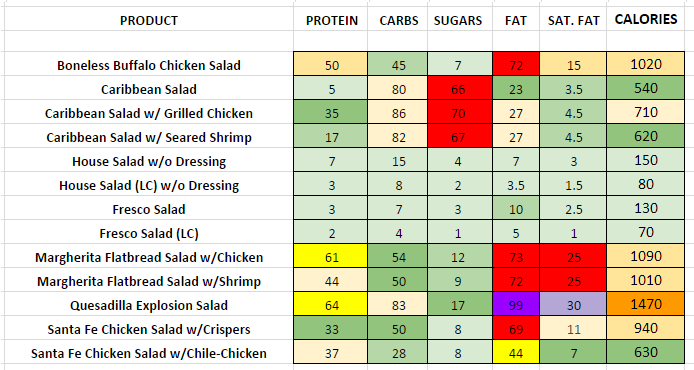 Chilis – Salad Dressing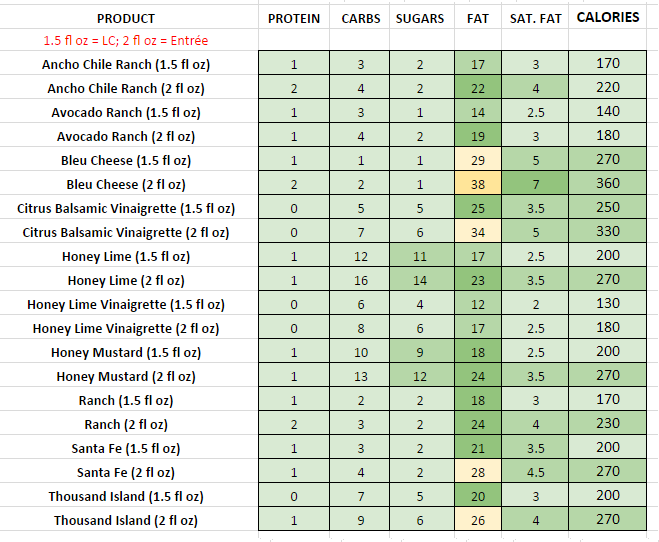 Chilis – Smokehouse Combo No Sides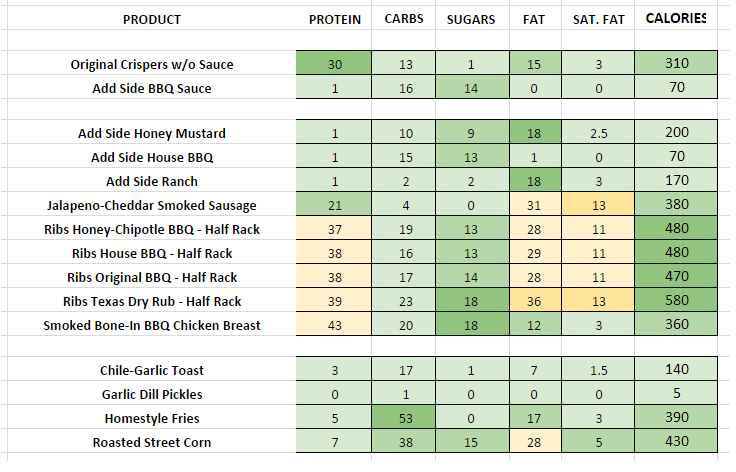 Chilis – Soups and Chili's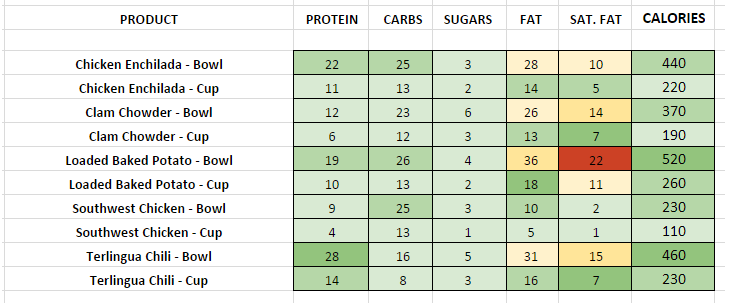 Chilis – Steaks

Chilis – Top Shelf Tacos No Sides

Chilis – Fresh Mex Pairings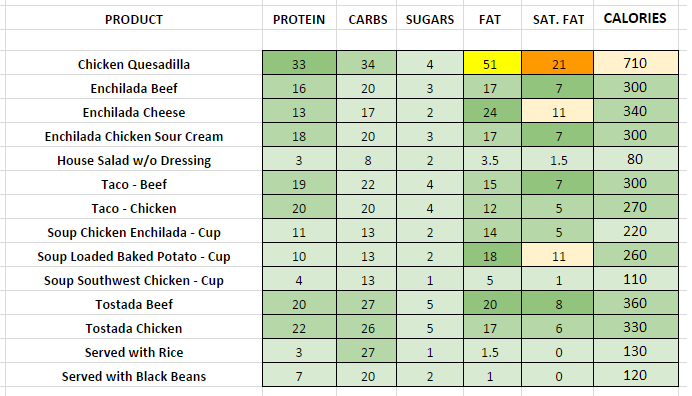 Chilis – Sides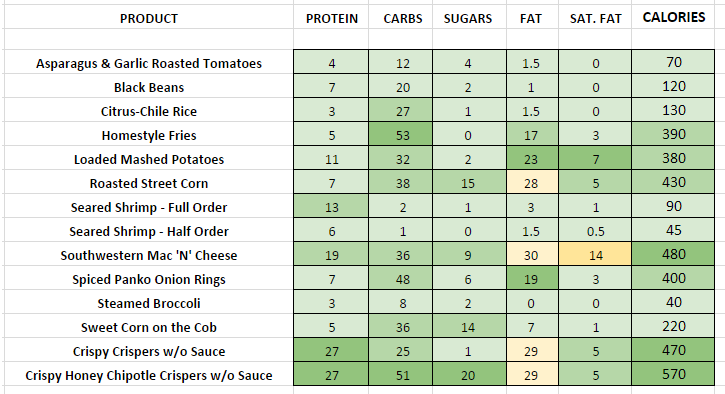 Chilis – Sweet Stuff

---
The Key
The colour coding used in these tables is similar to the Traffic Light System recently introduced in some stores.
It goes beyond Sugar and Fat with further breakdowns including Protein, Saturated Fat and Total Calories.
These are GUIDELINES only.
The "100%" is based off an Adult Male 2205 calorie diet.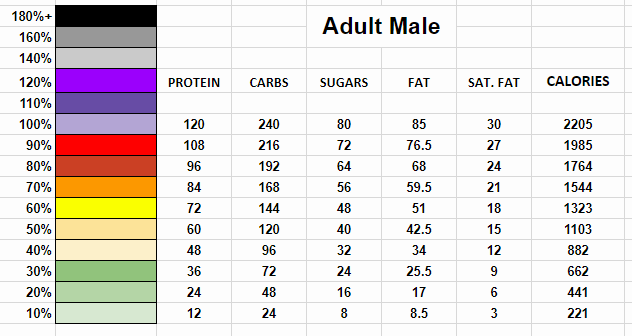 Information correct as of Mar 2016